"Location, location, location." The old cliché is true, whether it's for a brick-and-mortar store or related to your online real estate—your website. Customers need to find you – by foot or by finger – if you want to be successful. The most important way to get found online is to claim and make the most of what's called: "Google My Business".
You'll boost your chances of online success when you invest effort in your Google My Business listing. Your business website will do better in the rankings and get found by the search engine.
Here is a closer look at the nuts and bolts of Google My Business, the importance of other online directories, and how to increase your ability to get a higher listing on the search engine results page, or SERP.
What Is Google My Business?
Google My Business—GMB—is the premier online business directory. Google is focused on delivering useful search results to online users. To help people searching for businesses and services, they created GMB. It's gone through several name changes before settling on Google My Business. Its aim is to include a complete and up-to-date listing for every local business out there. Most likely your own company has a GMB listing, even if you didn't create it yourself. That's because Google is quick to populate the information for businesses using data from users, other directories and its own research.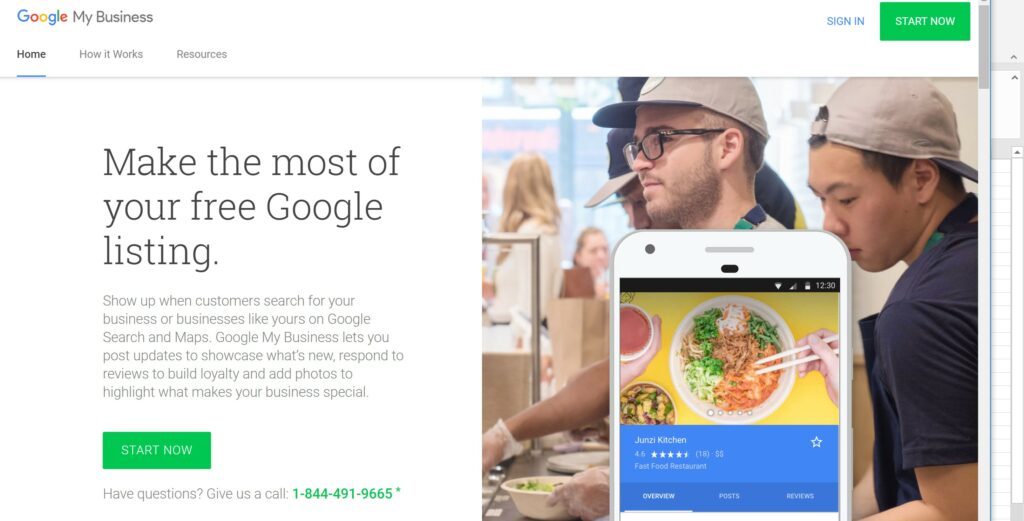 What Info Does GMB Provide?
GMB lets you share vital detail about your business, including: Business name Business address Business phone number Business logo Photos/videos of business One-click links to directions to the location, direct call and visit the website Popular times Hours of operation Reviews Ways for customers to reach out to you Recent blog posts Questions from customers with answers
Check your Current Listing!
Search for your business online using Google. Or do a search for the service or product you offer. What shows up on the SERP, the search engine page? If you see a map, then Google is using GMB listings to deliver the results for that search. It will look something like this: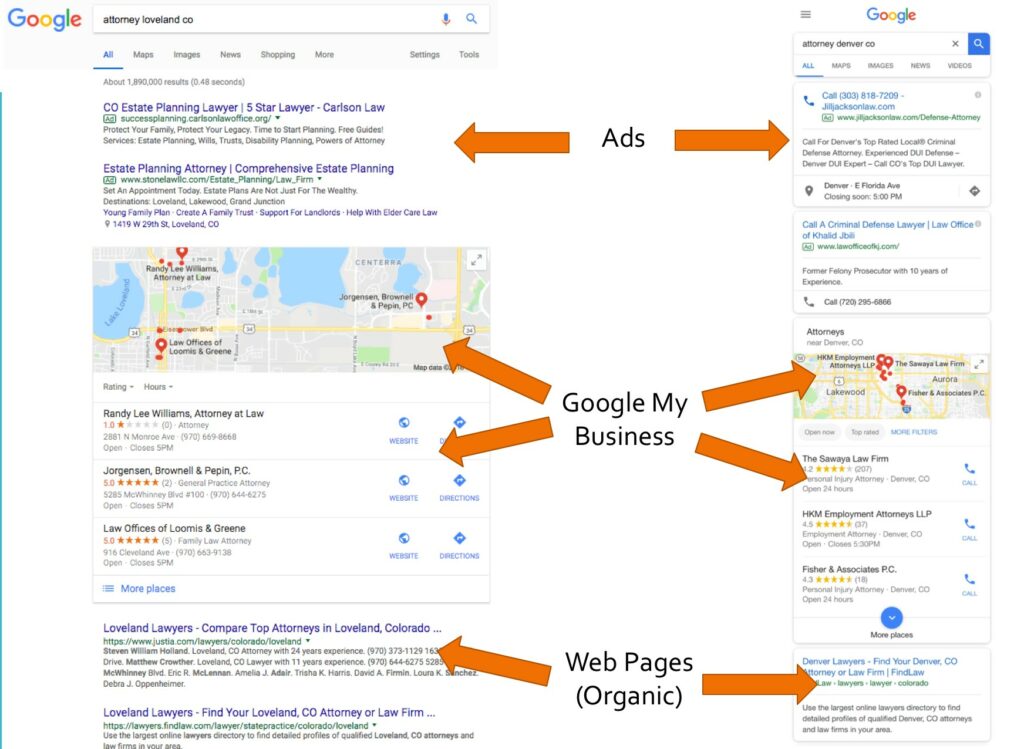 Do you see a GMB listing for your business, but you never created one intentionally? That is very common. The next step is to officially claim the listing and tell Google you are the owner or manager of the business. Then you can groom the listing to make sure it has the correct information and include additional details.
The more complete your listing, the more likely it is that it will be included on the SERP. It doesn't take long to tidy up and enhance your listing. A small investment of time will provide untold benefits to helping customer find you online.
Customers See Your GMB First
More than your website even, your Google My Business listing is what appears in local search results. Surprised? When it comes to local searches, Google gives priority to map results over organic search results. That means it is actually more important than your website because it's what your prospective customers see first. That's especially true when they're on their phone!
The best spot for your GMB listing is one of the three results just below the map. These coveted positions are called the "three pack" by SEO experts. They have a very high click-through rate.
What Can You Do to Get into the "Three Pack"?
Three pack or, sometimes five pack, that's where you want to be. How do you do it? Local rankings depend on a variety of factors, some within your control and some not. Here are the primary criteria that Google uses to determine your position: Proximity to the person searching Business listing factors (category, name of business) Link factors (quality and quantity of links to the website) Website factors (NAP, keywords on page, domain authority) Citations (quantity, accuracy, rating) Review factors (number and frequency of reviews, quality, rating) Behavioral factors (previous engagement with your business)
While you can't control all of these factors, you can improve your results by being pro-active about the quality, quantity and accuracy of your GMB listing. The better you rank on local searches, the greater the chance your customers will find you online. GMB is the best way to connect you to the local audience that is searching for you.
But it doesn't stop there. There are numerous other online business directories. It's important to list your business with them too. Google pays attention to the information in them when it decides how to rank you on the SERP.
Use Other Online Business Directories to Improve Your Ranking
Online business directory listings are technically called citations. And your GMB listing is the ultimate citation you can have. That's because GMB isn't just any directory. After all, Google isn't just any search engine–it's the most used on the planet.
In turn, that makes GMB the biggest directory on the planet. It delivers an astounding 100+ billion search results each and every month! If Google was another Yellow Pages, it would be the biggest directory that ever got delivered to your door!
But Google also pays attention to other online business directories. Important directories include Yelp, Yellow Pages, Angie's List, Better Business Bureau, and Merchant Circle. In addition, for almost every industry there are trade-related directories that you should list in.
Google will often deliver these listings in the SERP results. That adds to your chances of getting found. It is a wise use of your time to add your business listing to the most common directories online. When you claim your listing in each one, you are removing barriers to getting found. These directories will help potential customers locate you.
Make Your Listings Accurate and Uniform
When you submit your business vitals to directories, whether it is GMB or Yelp or the Yellow Pages or another directory, you need to be obsessive about Name, Address and Phone, usually called NAP. These details need to be supplied exactly the same way to every single directory. That includes the punctuation you use.
It's all in the details when it comes to NAP. Maybe you're in a hurry and use a different phone number. Or your address is slightly different. Maybe you use your legal name in one and an everyday version of your name in another. Even slight variations like these can create havoc with your Google results.
The Google search system needs you to be exactly uniform across all directories. It can get tripped up when it's trying to figure out who you are, where you're located and how to contact you. Your job is to make it as easy as possible by listing your NAP in precisely the same way on every single directory listing.
And be sure that this info matches exactly the info on your website. If you use parenthesis for the area code on your site, then do the same for the listings. Google is that picky! Remember too – your website carries the master NAP. Make everything match what you have there.
Uniformity goes a long way to making it easier for Google. Your consistency makes Google more confident that they have the right information, which ultimately helps you rank.