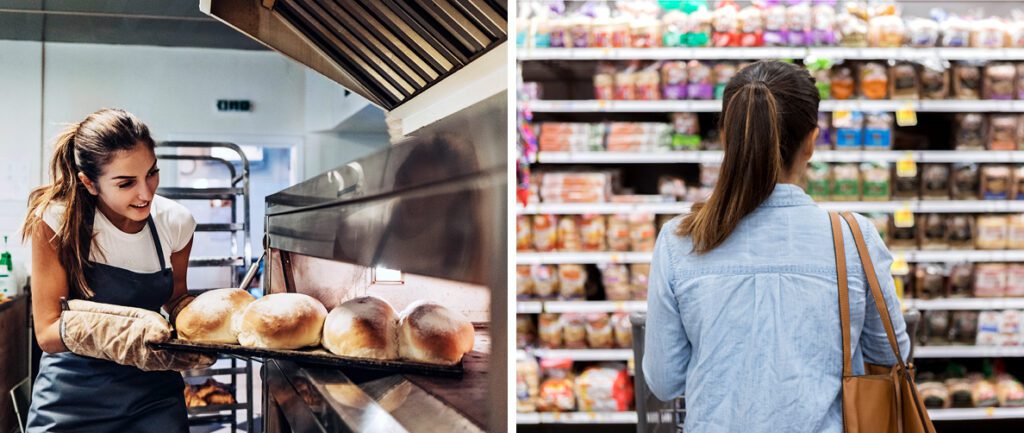 What is an Off-the-Shelf WordPress Theme?
Off-the-shelf WordPress themes are pre-built templates and plugins that are usually purchased as a bundle. A theme is the skeleton of a website, directing it's functionality and laying out it's appearance including everything from your font choices to your blog display. Off-the-shelf themes have minor customizable options, but are generally intended to be used as-is. They are often built by a theme development company, and are designed to be used across thousands of different websites. Sounds crazy, right? Your brand is more unique than that.
The Advantages of Custom WordPress Themes
Custom WordPress themes can be created by web developers and implemented as a positive alternative to generic, off-the-shelf options. Why is it worth the time and investment? Below are our top 5 reasons.
REASON ONE: Superior Code Quality
Creating a custom theme means that a web developer is coding the website template from scratch, giving them full control over the quality and cleanliness of the code, as well as the plugins that are chosen. Custom themes are created specifically for an individual business, taking into consideration the design and functionality best suited to their identity and goals. Alternatively, off-the-shelf themes are created by a large group of developers and made to be as nonspecific as possible so that they can be used for a wide variety of businesses.
Custom themes are also more reliable, as clean code that follows WordPress guidelines and best practices are shown to better protect against potential issues when running routine website maintenance and updates. Because themes are dependent upon compatibility with WordPress itself, they must be designed to account for changes in the WordPress platform, otherwise the theme can stop working and ultimately bring a website down, usually with graphical glitches or layout bugs. In a custom-built environment, the web developer can much more easily identify and fix problems because they built the code themselves from the ground up. When problems arise with off-the-shelf themes, you are reliant upon the theme company's support, which is usually slow to respond, or employs contractors unfamiliar with your specific project or theme.
REASON TWO: Reduced Plugin Conflicts
Sometimes websites need third-party plugins installed in order to function as designed. This can include plugins that optimize a site's SEO, improve loading times, offer live chat support, and more. When using an off-the-shelf theme, you run the risk of the code conflicting with beneficial plugins, forcing you to choose one or the other. Attempts to reach the off-the-shelf theme developer often result in months of waiting for a resolution, meanwhile impairing your site's ability to function fully. Alternatively, custom themes experience reduced plugin conflicts and significantly shorter waiting times on the occasion that plugin incompatibilities arise.
REASON THREE: Improved Speed
A common issue with off-the-shelf themes is that they are not developed with performance in mind. They tend to include extra, unnecessary functionality that is often never used, but still gets loaded into the user's browser, or is loaded onto your web server slowing down the request and load times. Complaints of slow websites are often a result of this hidden nemesis. This is particularly an issue as mobile usage continues to trend, and mobile networks can't handle a large amount of code to be loaded. Instead, a custom theme that contains only the necessary amount of code will create a faster and more enjoyable user experience, which translates to happy, loyal customers.
REASON FOUR: Building + Editing
When we hand websites over to our clients, we train them to edit the site from an easy-to-use dashboard. In order to make editing a comfortable process for those who are not web developers themselves, we choose tools that are well-vetted, easy to learn, and offer accommodations where needed. We go the extra mile to understand and anticipate how the client will use their editing tools. Alternatively, when you choose an off-the-shelf theme from a library, you have no control over how the edits will be made, what tools you will use, or the complexity of making the changes themselves. For many, this makes the future of maintaining their website an unrealistic task.
REASON FIVE: Marketing + Design
Every brand has different goals, target audiences, aesthetics and desired website functionality, which is why a one-size-fits-all approach does not, in fact, fit all. When it comes to website design, first impressions are paramount. Our design process takes these important elements into consideration. First, we invest a significant amount of time to understand your brand and target audience, then we design a site that speaks strategically to them. Your website should feel familiar and intuitive to the user.
Off-the-shelf themes miss so many important details as they are built to be generic, and often fail to make a brand stand out against it's competitors. Custom themes will always trump off-the-shelf when it comes to strategic communication.
The Takeaway
When investing in such a vital digital element of your brand – your website – don't skimp on design by purchasing an off-the-shelf theme. Instead, go the extra worthwhile mile for a high quality, easy-to-maintain site that is truly you.
One Tribe Creative makes performant, beautiful websites with clean code and always pays attention to the details. Each site is built from the ground up, uniquely reflecting your brand and its values. Sites are intuitive, professional, and create an excellent user experience so that you can attract and retain valuable customers and site users.